Boho Little Mermaid Inspired Wedding Styled Shoot // Joss Bay, Kent
Next up in the Disney series is this gorgeous Ariel inspired shoot. This was actually photographed last July, on possibly THE hottest day ever ( I got seriously sunburnt, oops!) But considering we had to change the date the week before due to bad rain we really lucked out!
Inspired by the sea and Ariel getting her feet, we brought different elements from the ocean to create this relaxed beach themed wedding. We picked Joss Bay, in Kent for its beautiful white cliffs and golden sandy beach. This styled shoot is full of totally quirky and relaxed ways to create a fun, nautical and boho take on a Disney themed wedding!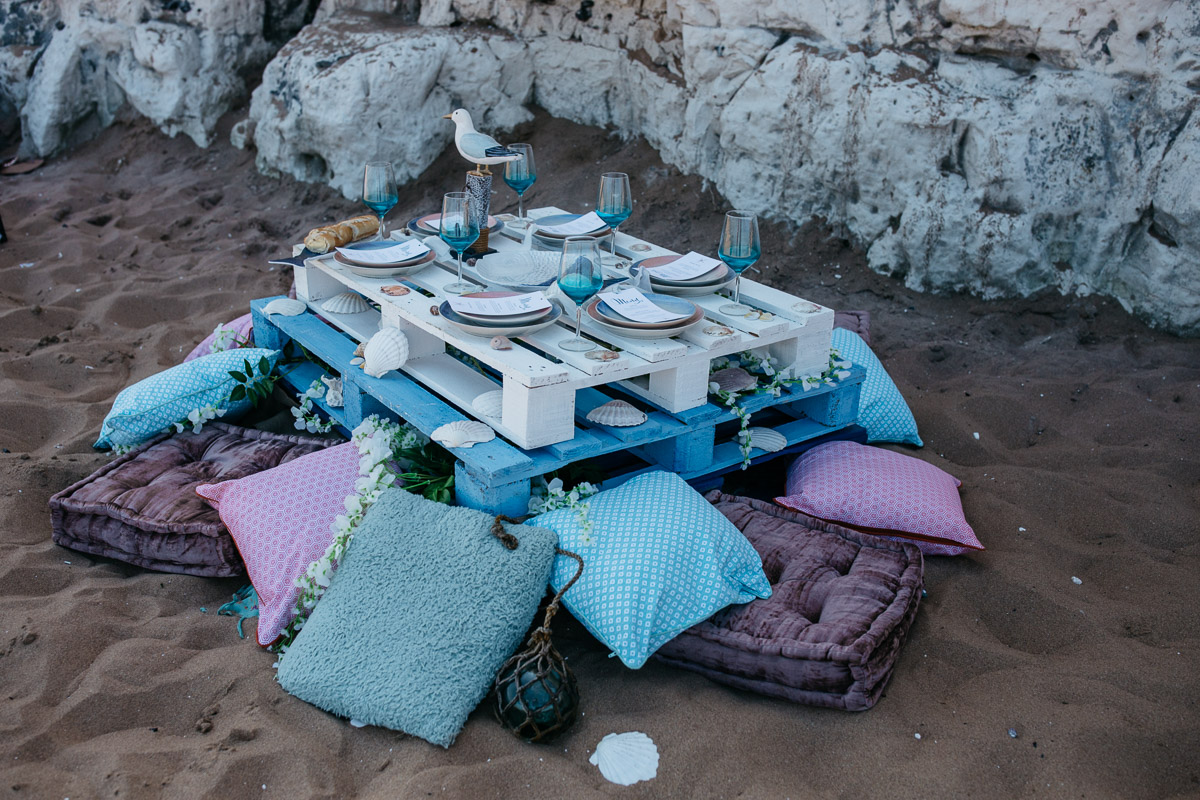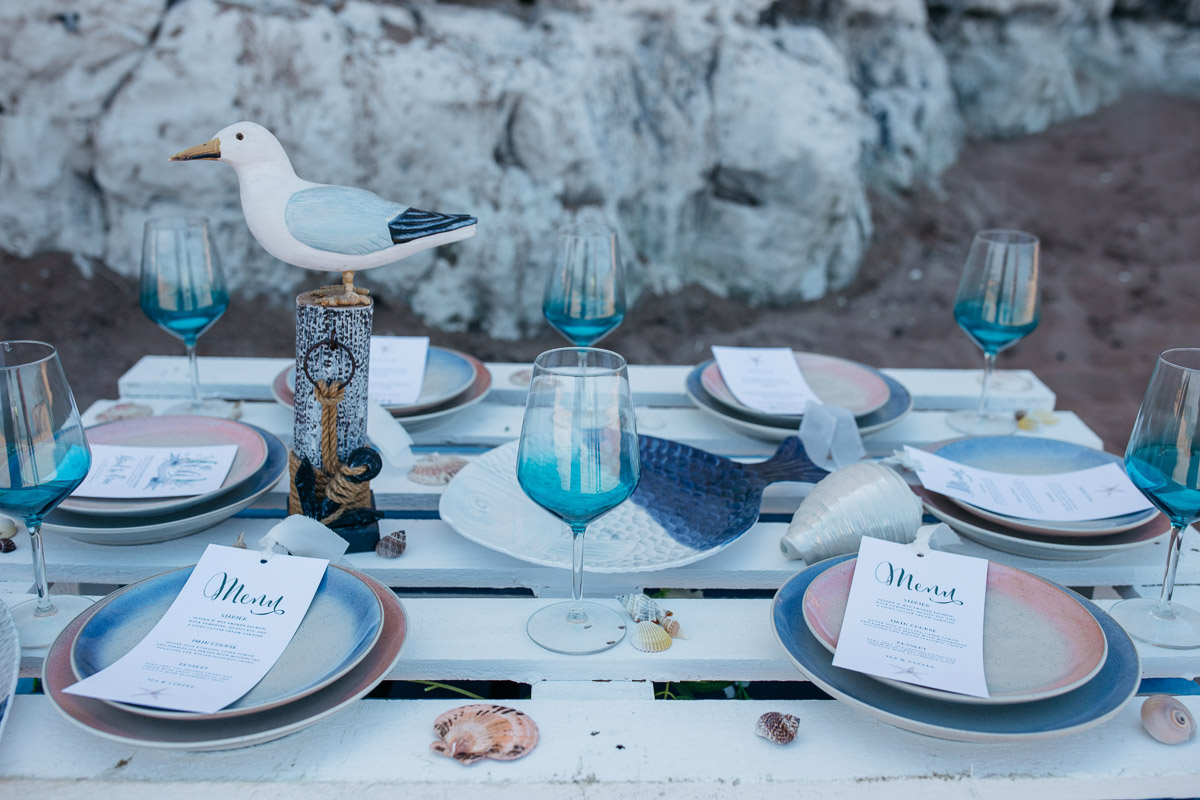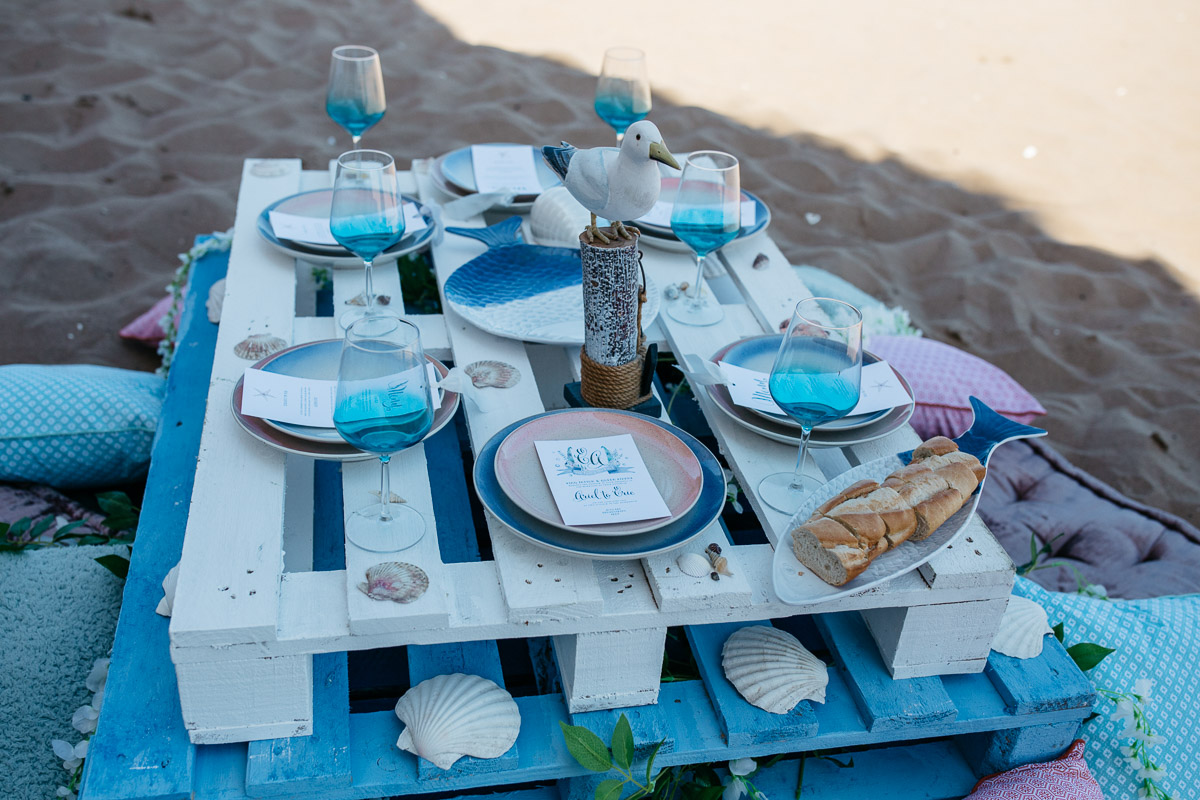 Disney inspired Stationary & Table décor
 
So it turns out Kayleigh is not only amazing at creating the best make up looks as well as planning all the concepts for the shoot, she's also pretty damn good at this wedding DIY malarkey! She wanted to create a real boho beach vibe so rather than using a table, Kayleigh opted to repurpose some wooden pallets, painting them different shades of blue and white and create a casual low seating area instead. Surrounded with lots of cushions this is the perfect beach table setting.
Once again Jenna from Wonderland Invites has totally exceeded expectations on the stationary suite! With delicate water coloured coral and seaweed with some whimsical bubbles for good measure! I totally love the silver envelopes too.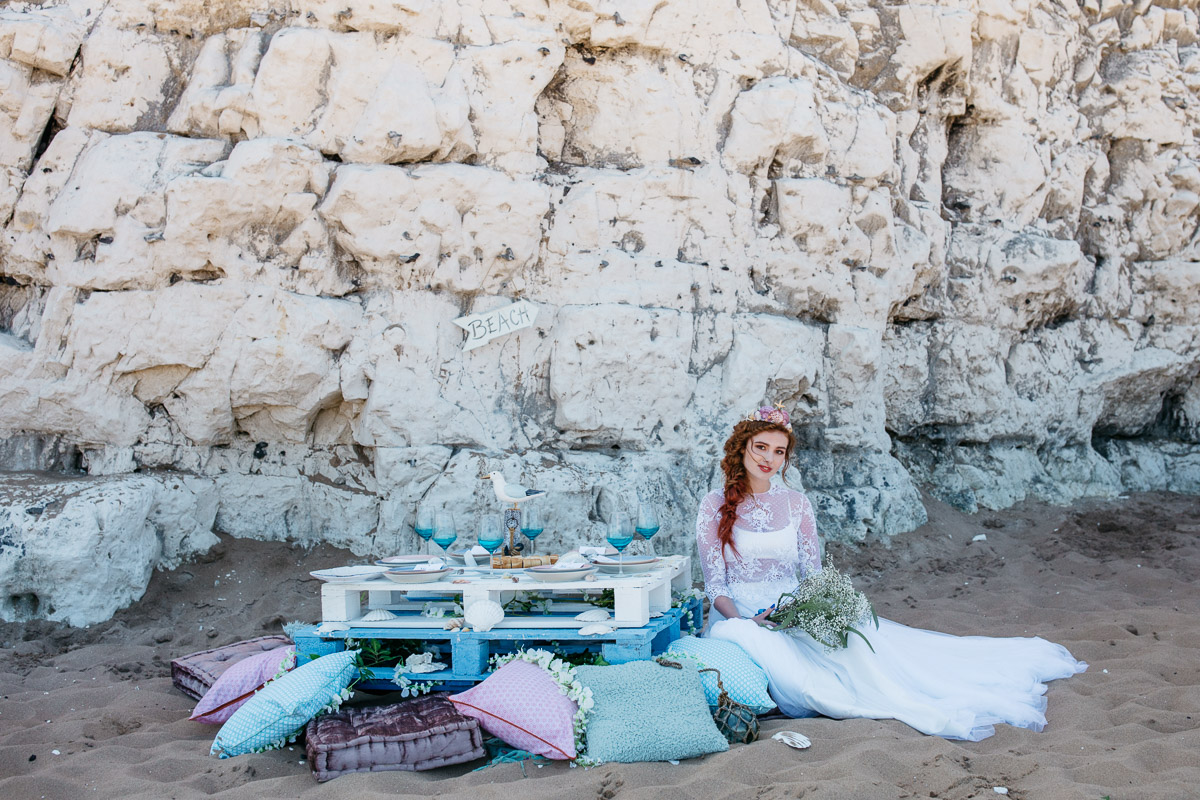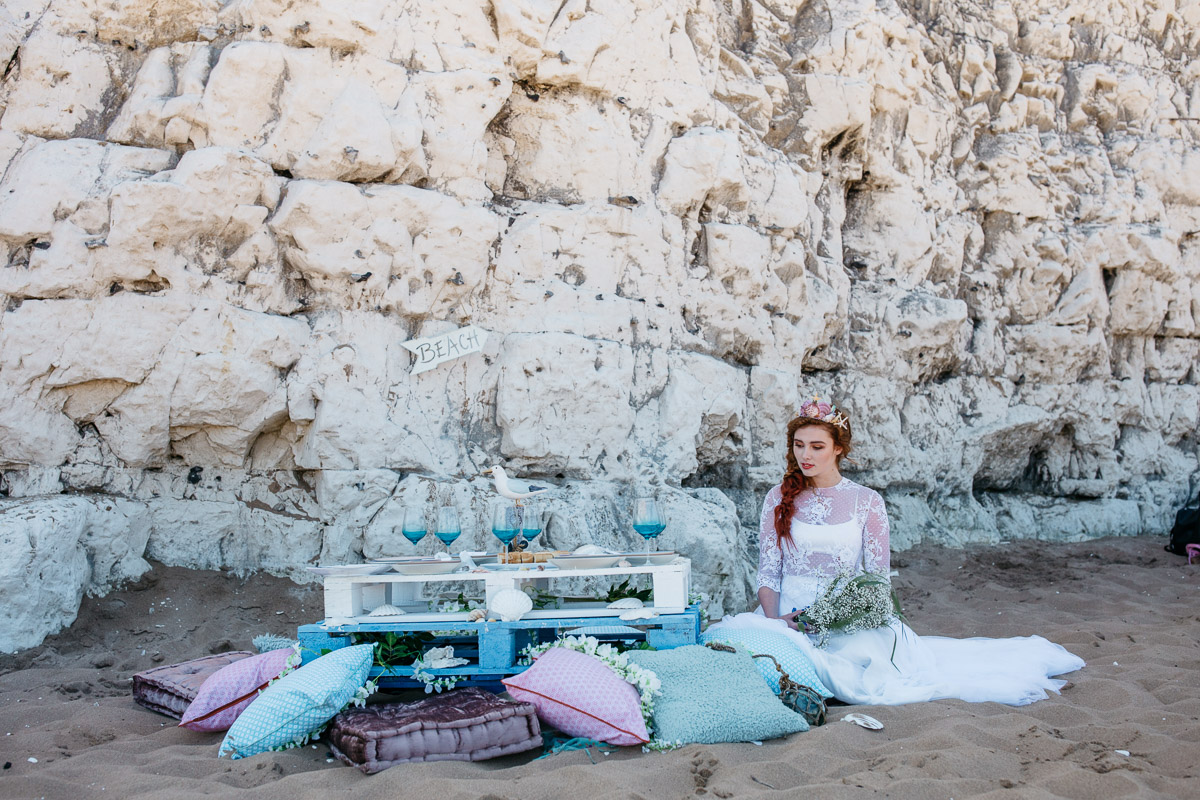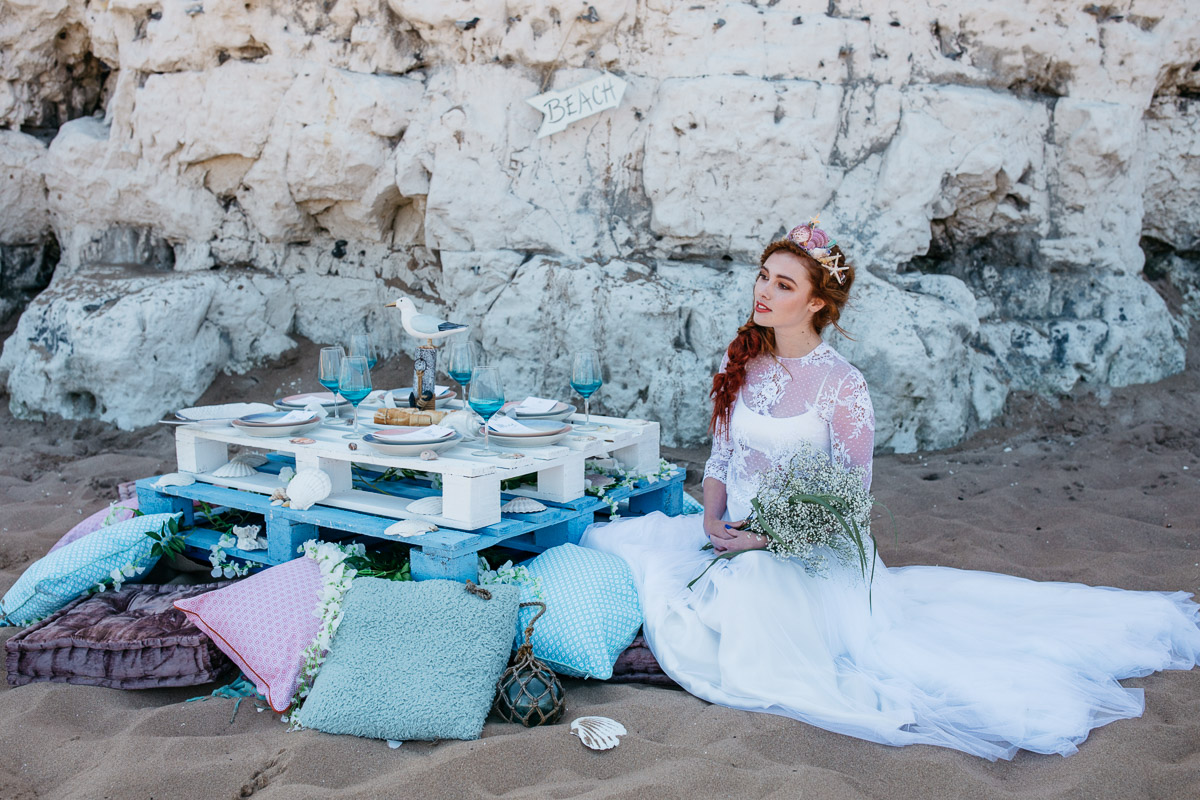 Boho Beach Bride
Lauren was the perfect Ariel, she has such a striking look anyway Kayleigh kept it super natural and relaxed with the make up, accentuating her features with bronze eyeshadows and a bright pop of lipstick to brighten up the look. Jen from Pin Up Dos created a boho fishtail plait, perfect for that effortless beach bride that doesn't want to worry about the sand getting in her hair and causing a tangle!
Once again Audrey Ashley loaned us a beautiful two piece that was the perfect balance of sexy with a little midriff showing as well as keeping that bohemian princess look. The lace top provides the pefect cover up, especially when you're on a super hot beach!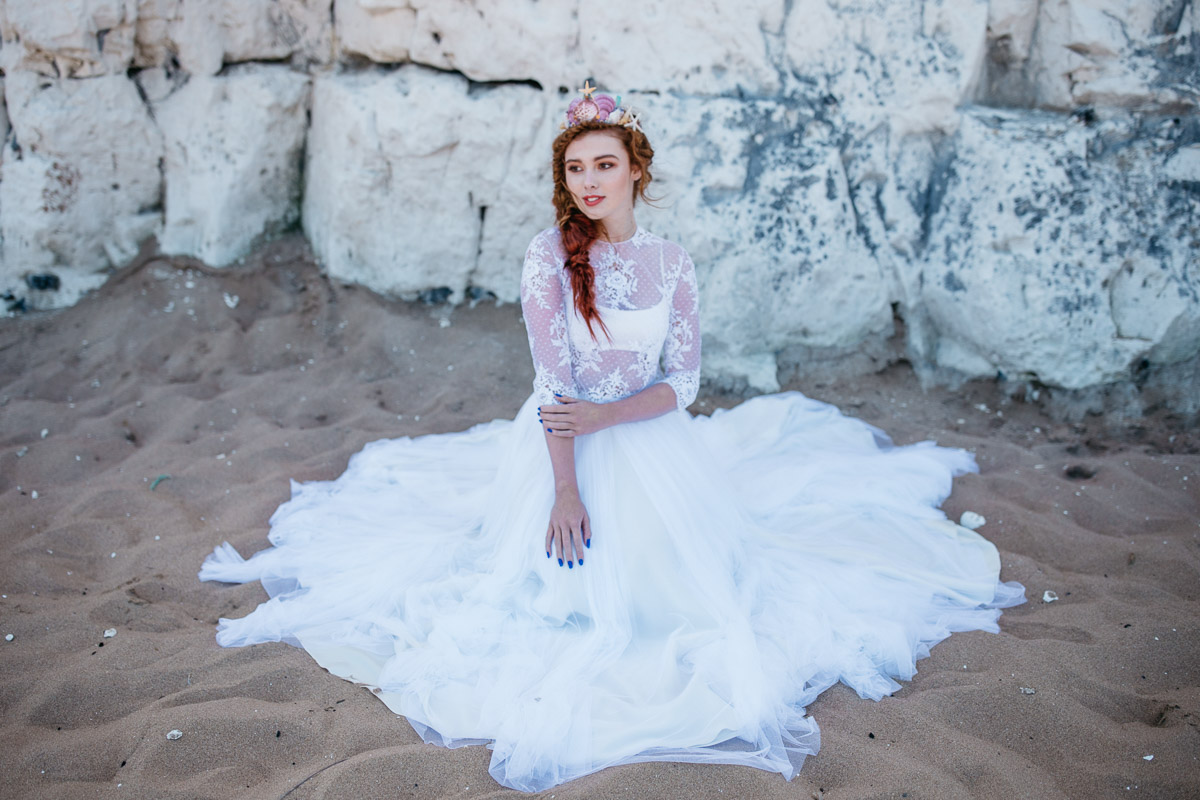 Now, no-one likes wearing shoes on the beach so PS with Love made these super feminine sandals for us so you can bring some glam right down to your toes! She also created a matching headpiece for us so if you're a beach bride that's a little more glam and wants to steer away from the shells then this is the hair accessory for you!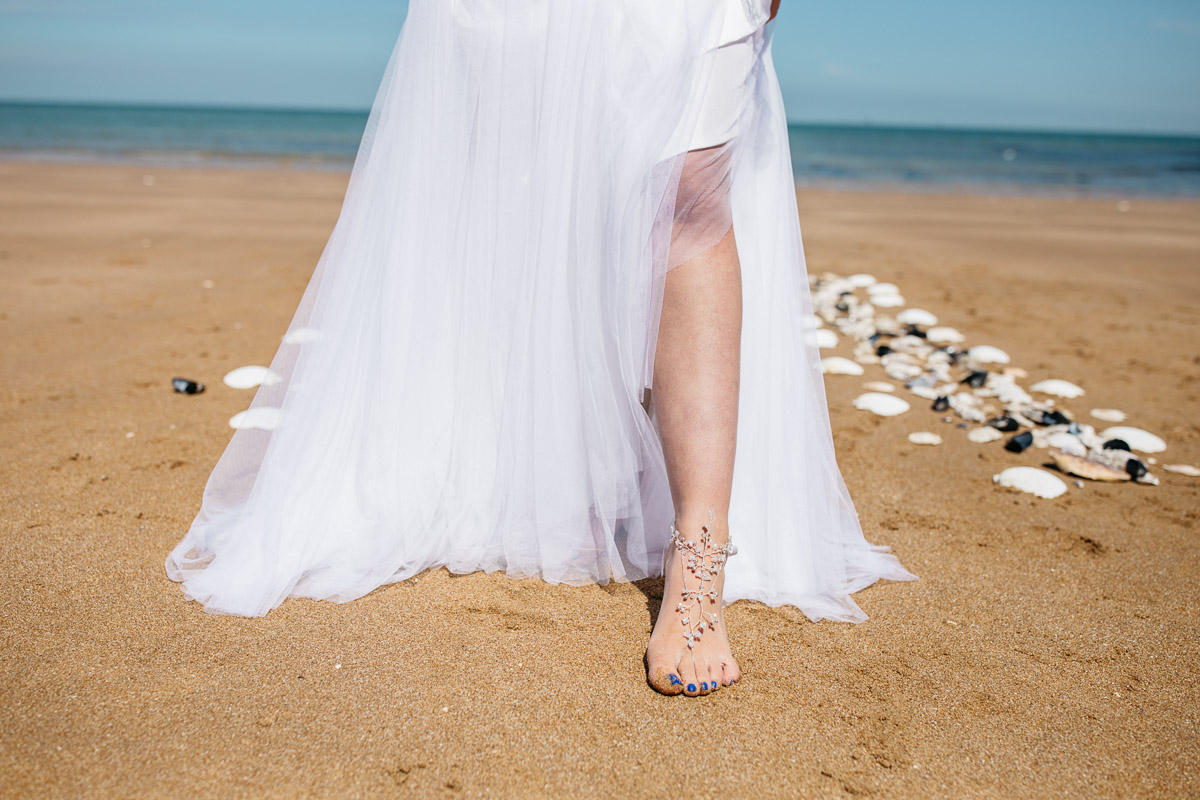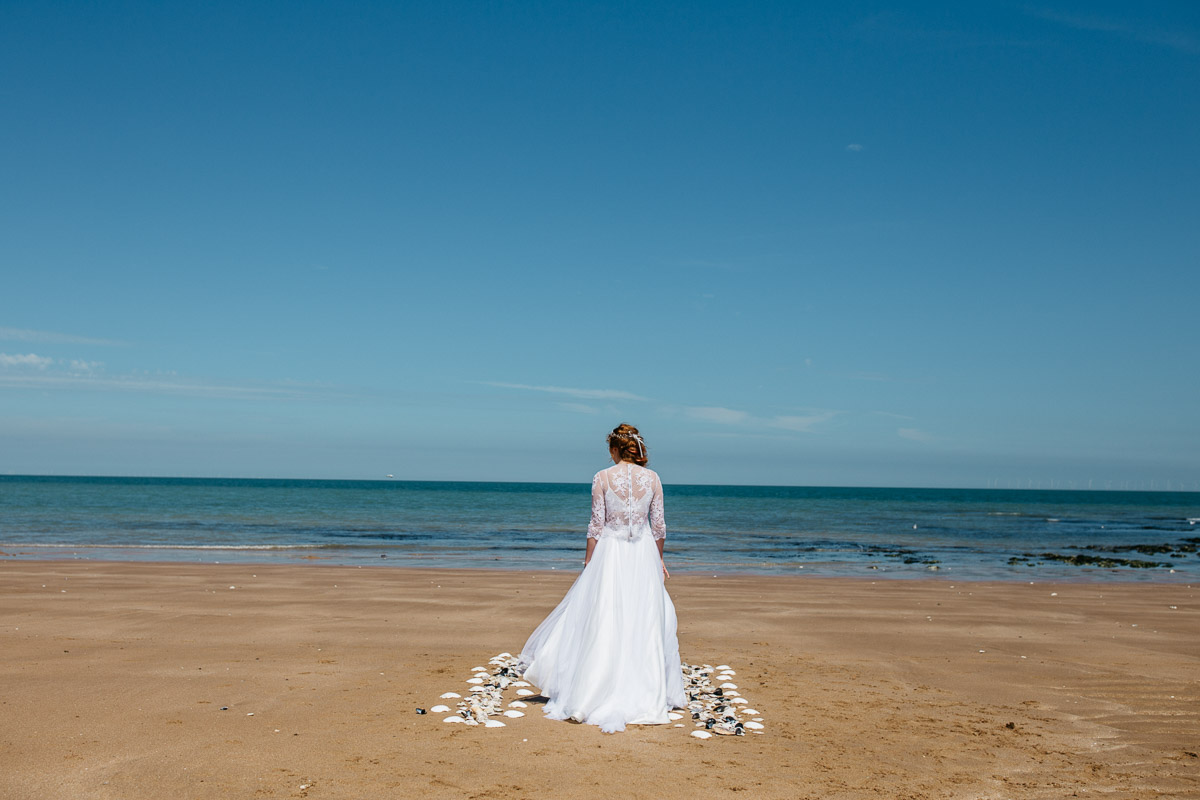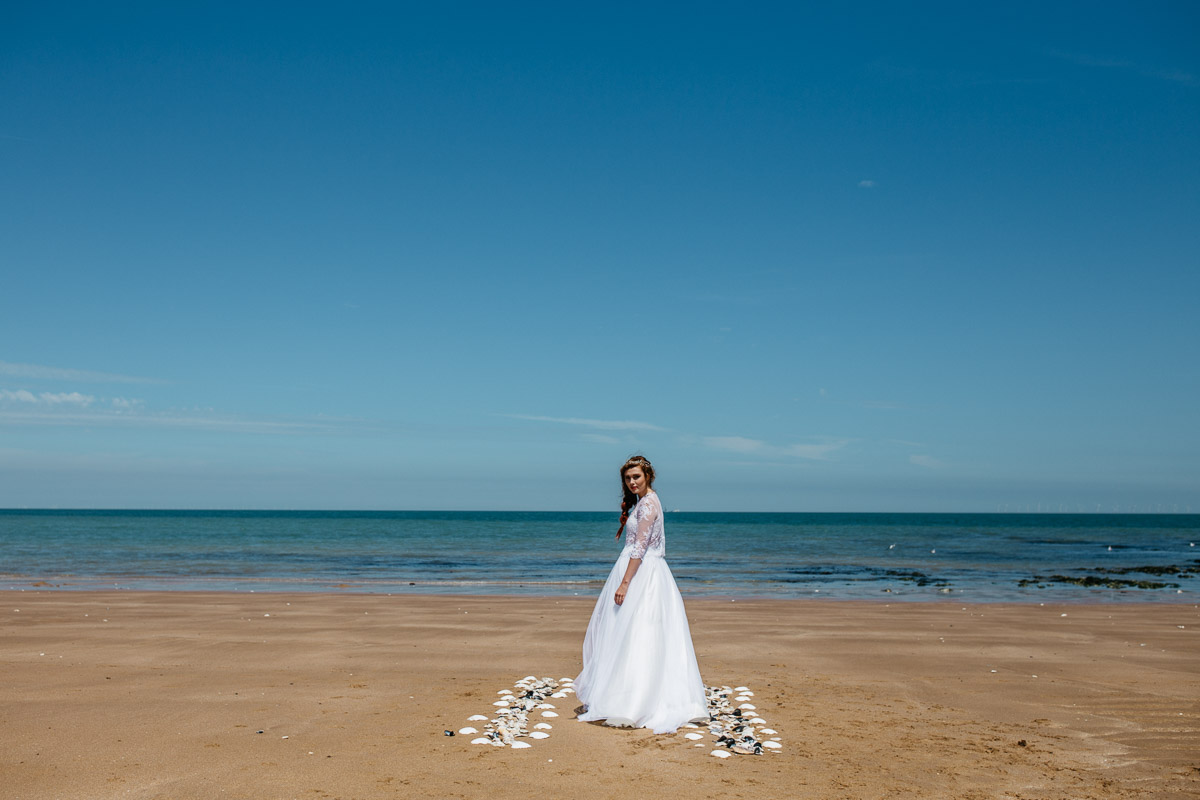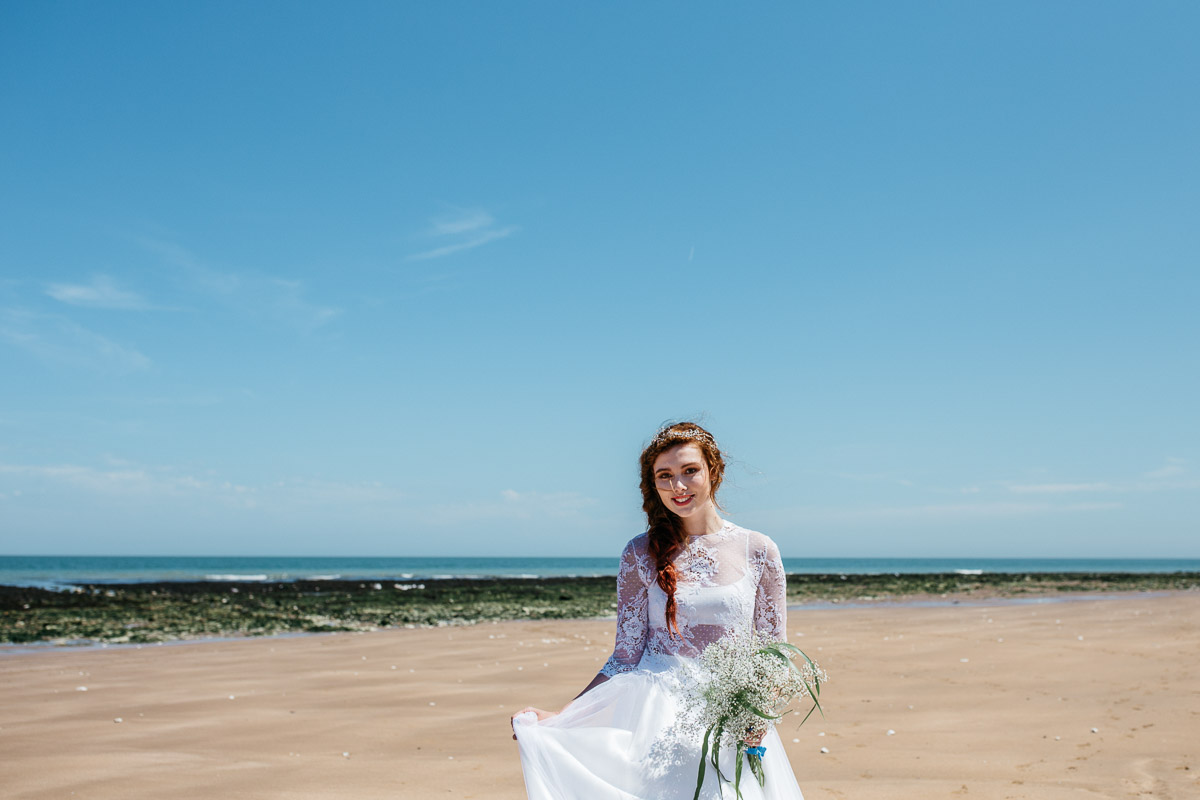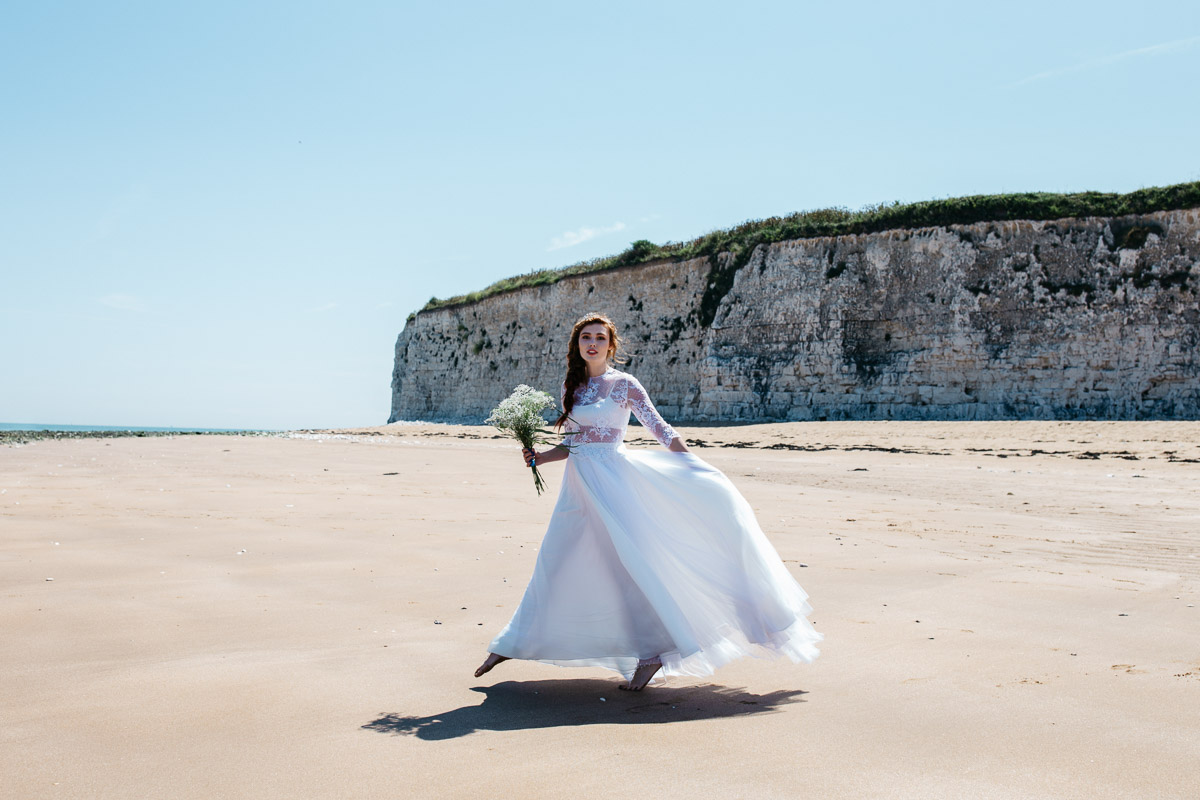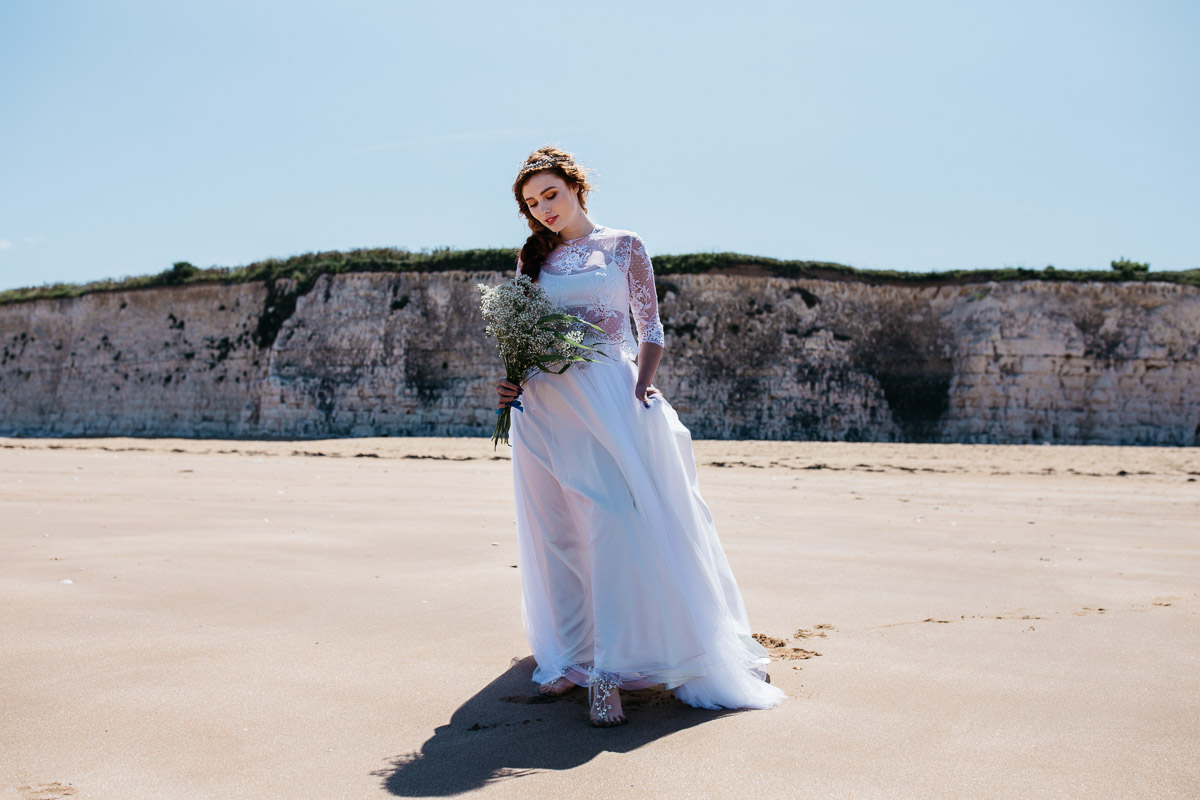 Once again we were spoilt for choice with accessories galore! This amazing shell crown was made by Laney from Mels Marvellous Millinery, and is perfect for the bride that wants to look and feel like a sea princess without a bejeweled tiara in sight!
Mcfayden Millinery took the beach theme into her own using pieces of driftwood and crystals to make the most beautiful bespoke headpiece, which worked so well with this delicate veil by Bridal Adornments.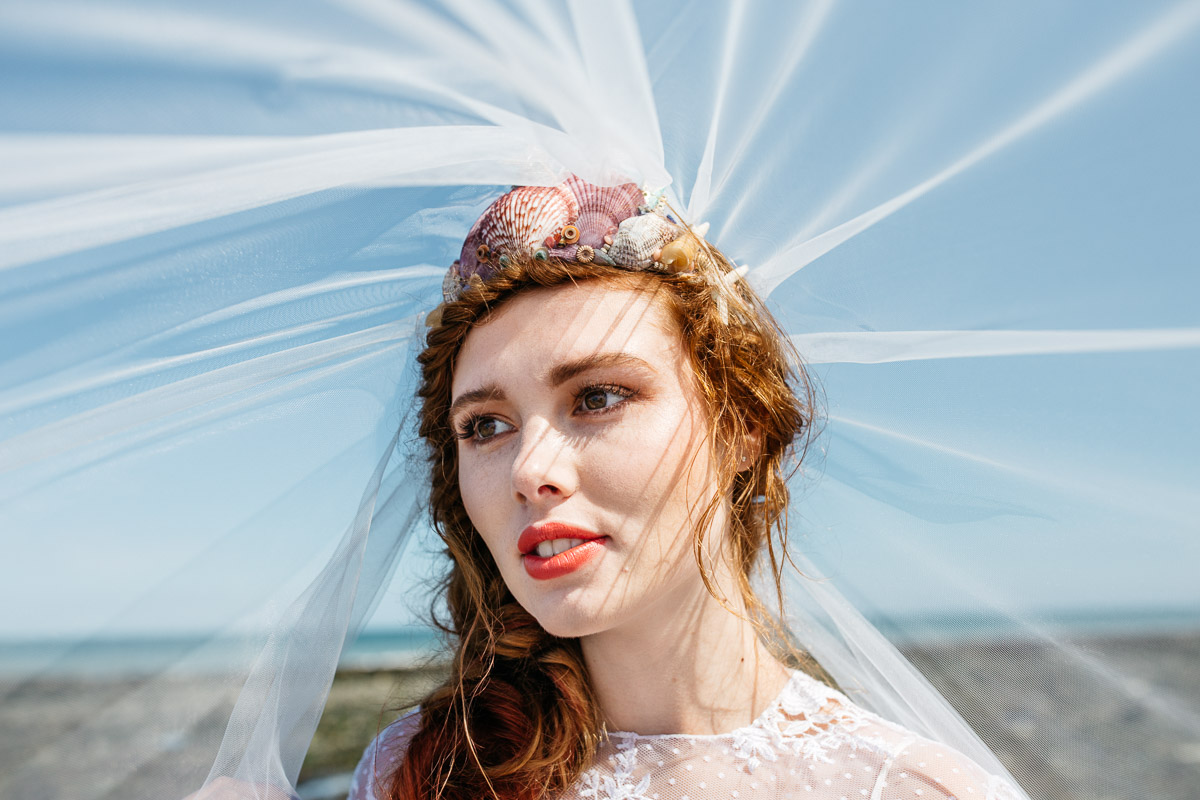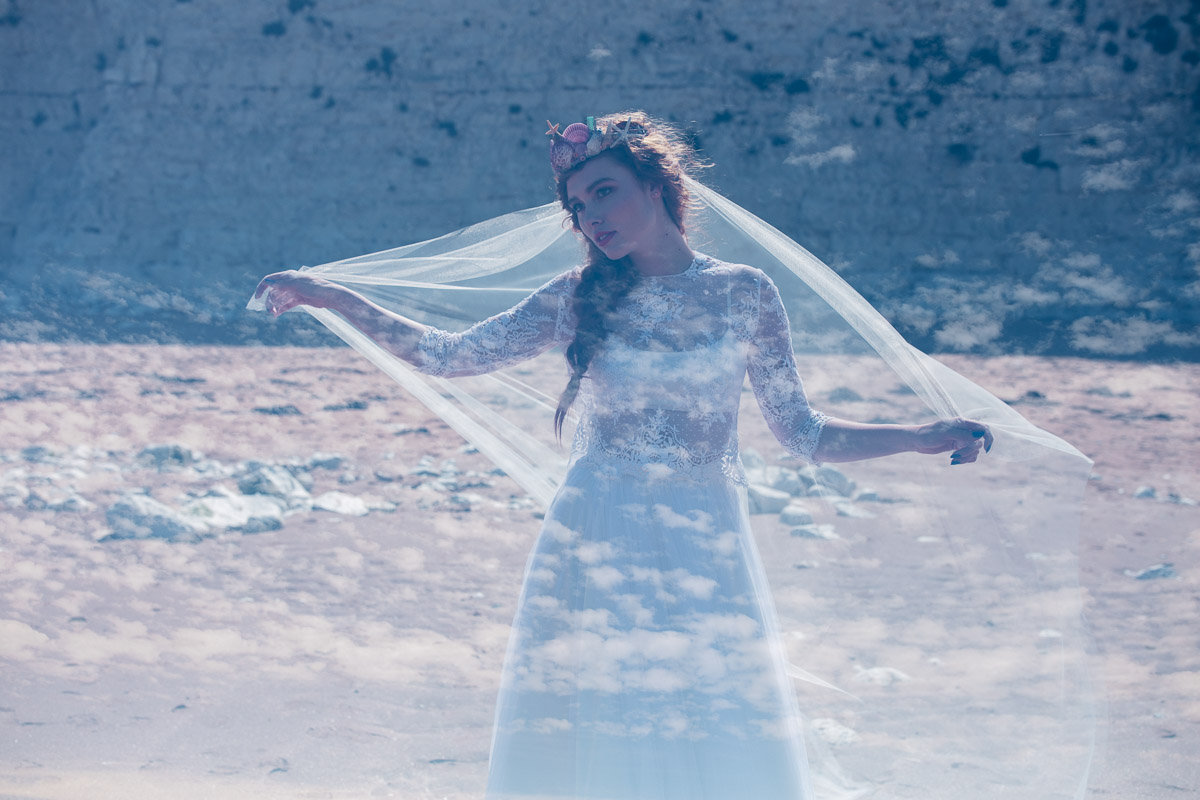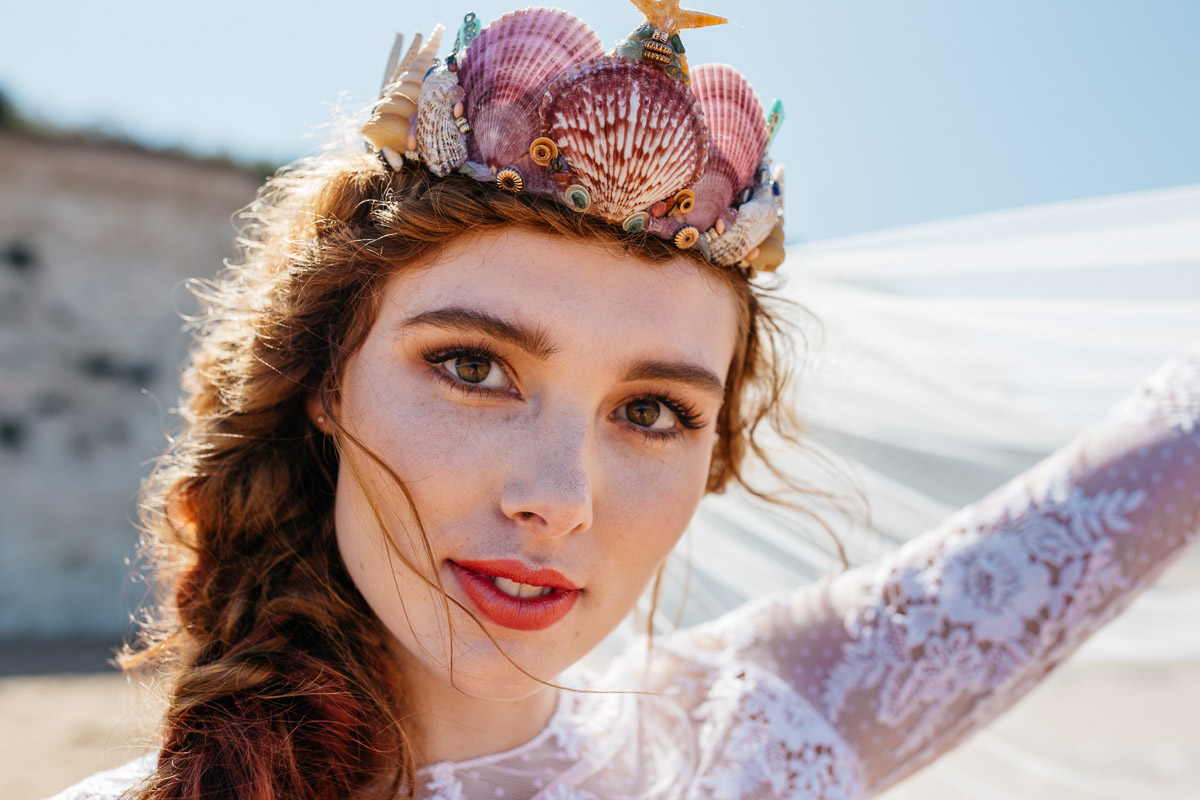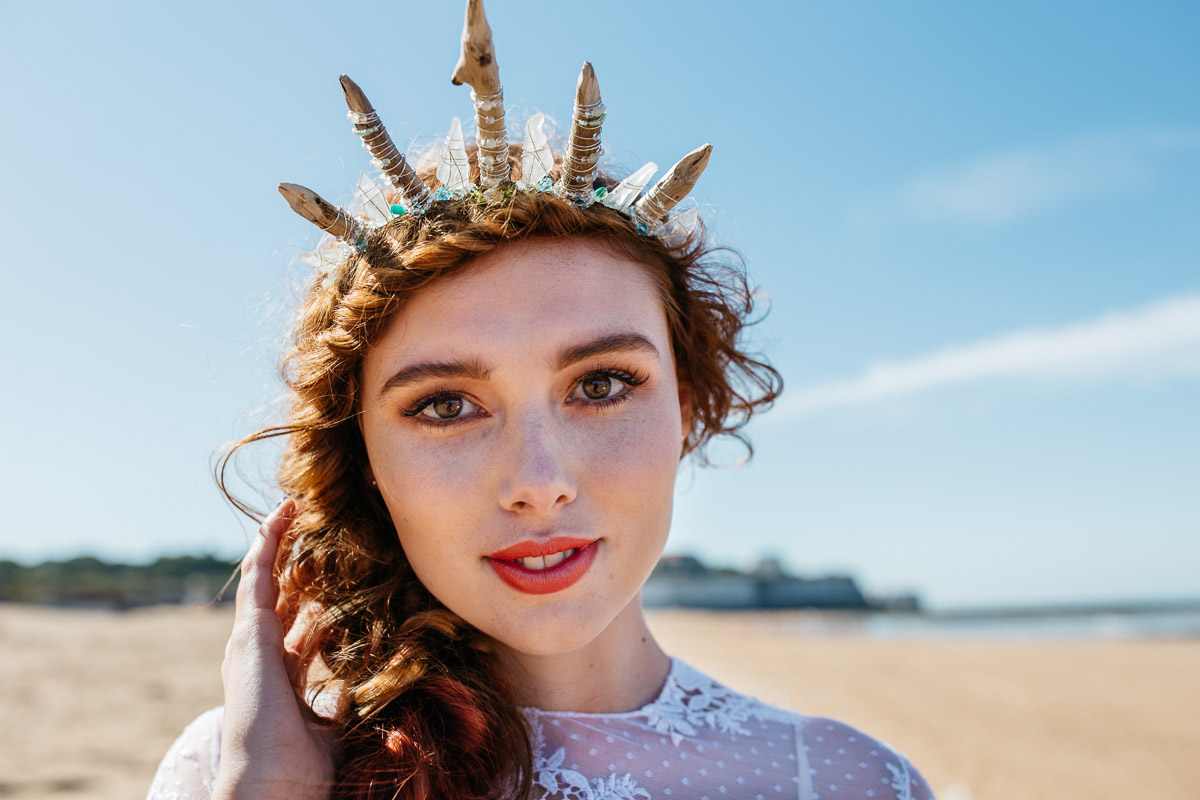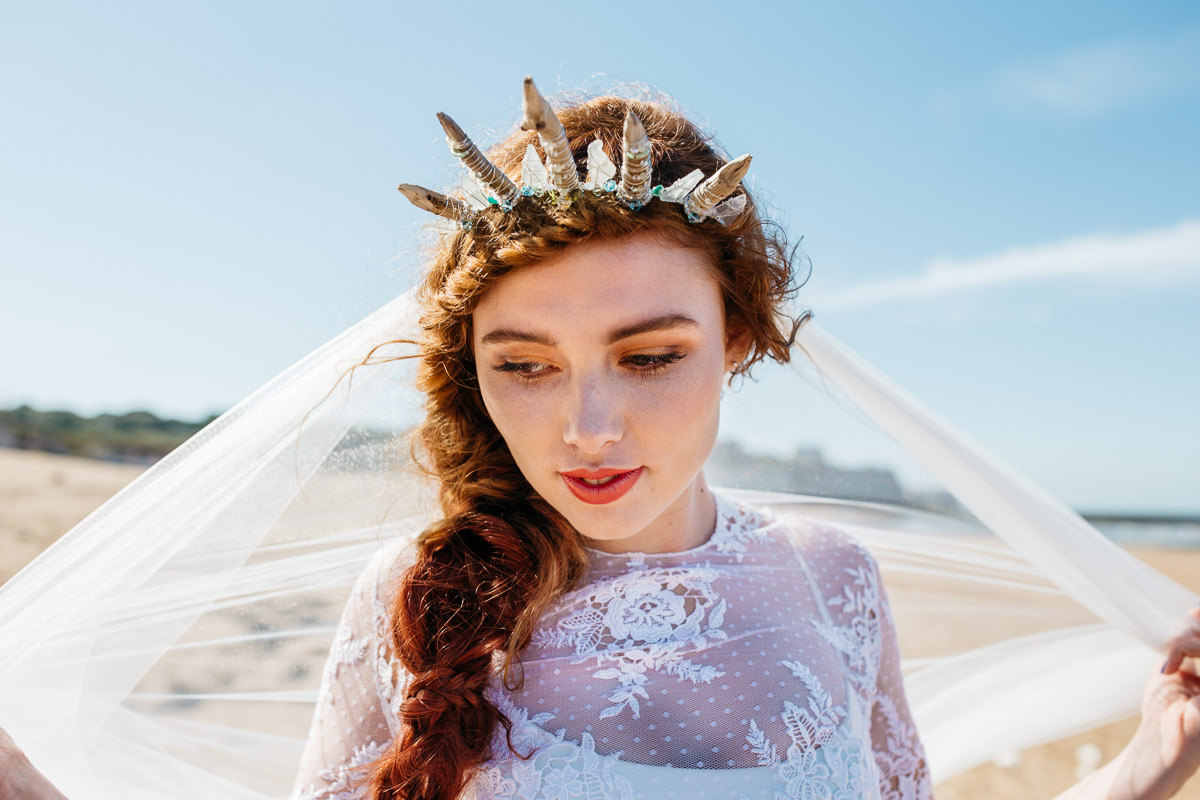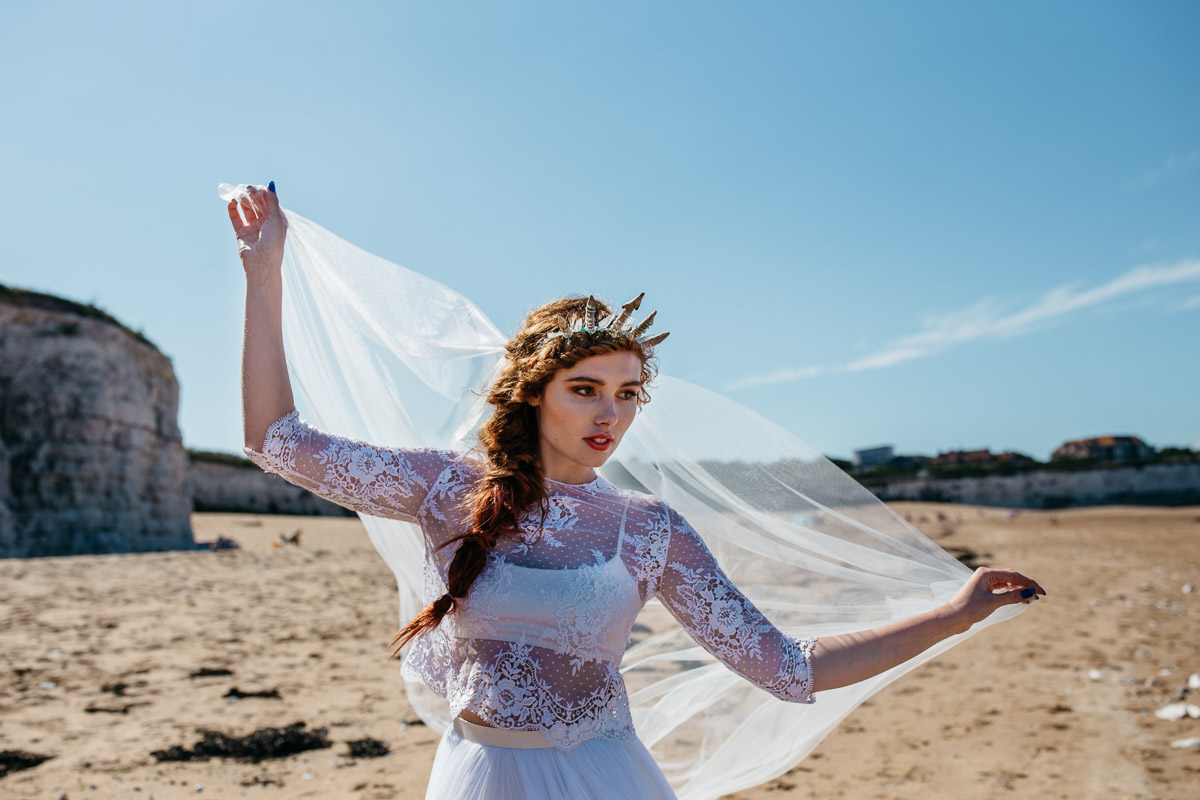 Lastly, is this TOTAL show stopper of a cake and dessert table by Rob from Orange Rabbit Cakes. Originally the sweet treats were going to be displayed on a table but when Rob saw the break in the cliff edge and suggested it we were all in sync when we said yes! IT worked perfectly for the very angular art deco themed cake and the rustic crates and fish nets really brought the whole visual together. Now i'm going to off in search of doughnuts!